Dora Napolitano.

Creating a Forest of Hope (one stitch at a time)
Dora Napolitano founded Zurciendo el Planeta (Darning The Planet) in 2016, a collective that uses artivism, mending, and urban agriculture to engage people in discussions around a regenerative and equitable future. Through community meetings, workshops, and their 'Forest of Hope' embroidery project, the collective now connects women in Mexico, Argentina, Chile and beyond. 
As a mum to four kids who were constantly outgrowing their clothes, it seemed natural to think about fabric. My grandma was a great stitcher and knitter. But she died when I was very small and I grew up in a house where my mum knew how to do everything her mum had done, but considered mending a chore. I know now that people who crochet or stitch find healing just in doing, just in the process of making. But it took me a long time to discover it for myself.
When I started worrying about the climate, around 13 or 14 years ago, my twins were babies. A few years earlier I had turned a bunch of my own old clothes into a quilt, without any sewing skills to speak of and more out of nostalgia for my clothes than any conscious environmental thinking, but I enjoyed it so much that mending the children's clothes to reduce our family consumption and extend the use of each item was a natural next step.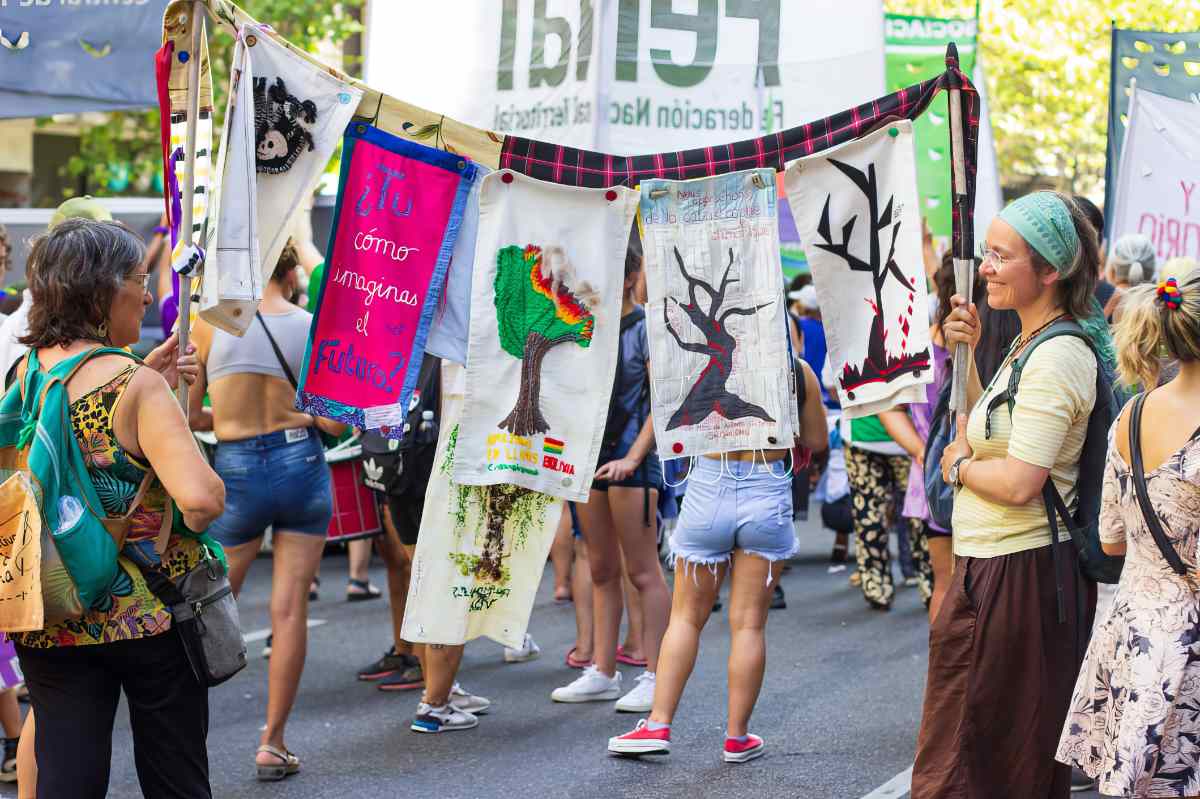 I had already made lots of changes at home when they started school in Mexico City and I found conversations between parents at the school gates all centered around complaining about the floods, lack of water, the awful traffic, the air quality! We were all complaining about it as if it was somebody else's fault and definitely someone else's job to fix. No one seemed to be trying to do anything about it.
These conversations pushed me to act. I started thinking about how I could share some small steps towards positive environmental acts that could become part of our daily, local life.  In 2016, I started a project called Zurciendo el Planeta which means Darning the Planet. I was already mending and recycling fabric at home and a friend pushed me to hold workshops and teach others too. At the workshops, I would lay out sheets on the floor, piled with a mountain of old clothes and people could rummage through them to find a piece of fabric they liked. But they didn't know how to use a sewing machine! Then, in less than two hours, I would guide them to transform what they initially perceived as rubbish into something usable and beautiful. At first, I ran these workshops sporadically, so I didn't have much of a following, but the people who joined us did something extraordinary: they engaged in conversations about the tedious or unpleasant subject of climate change and environmental degradation and went away full of joy because of something lovely they had made. I felt that was pretty revolutionary! 
In 2020, I received some funding to run a series of workshops, but COVID hit. We went online, and we found people from Argentina, Chile, Spain, and Costa Rica joining, as well as local chilangos (people from Mexico City). We organized 56 workshops! The participants (mainly women) joined us twice a week for two-hour-long sessions to learn to upcycle, mend, and stitch ARTivist (craftivist) messages on recycled fabric. After the end of the workshops one participant said, "we can't stop here" and we decided to form an international collective.  Now we hold monthly meetings, and we usually have 20-30 people at a meeting.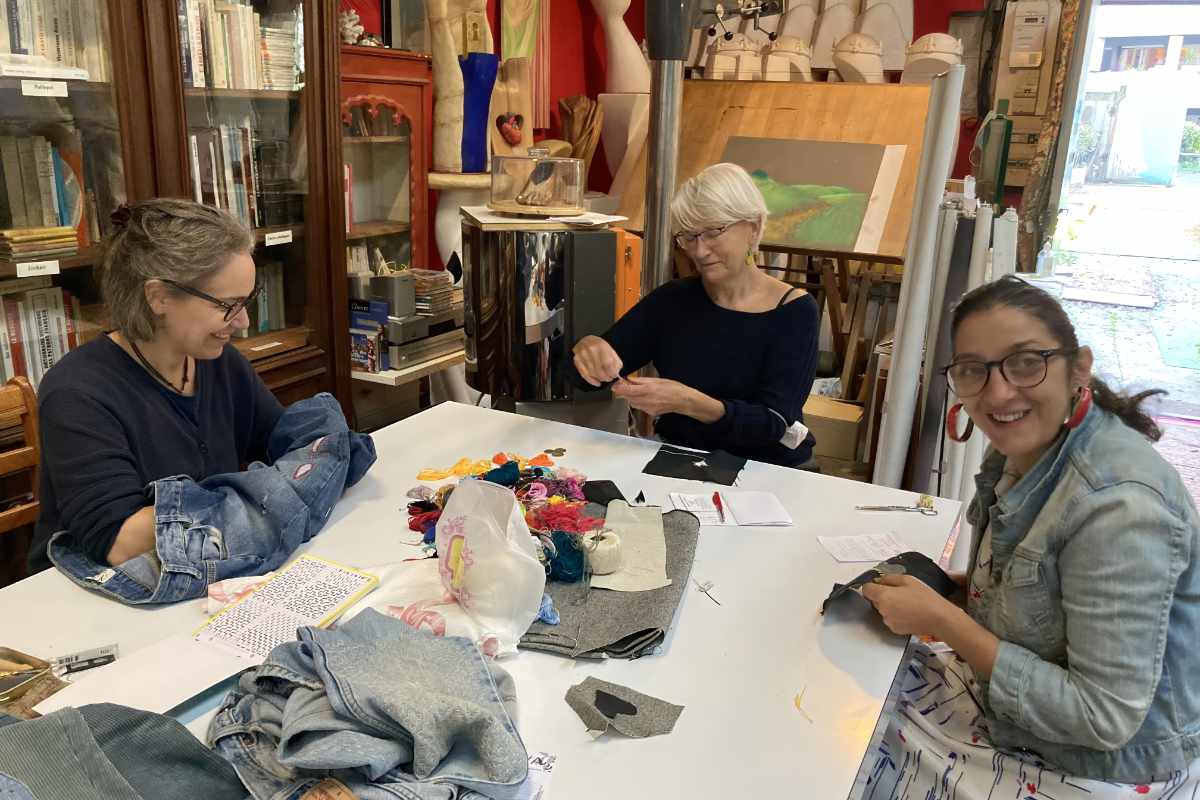 What's the Forest of Hope? In 2021, when we had just decided to be a collective, 14 of us in four countries decided to make something that would make a difference at COP26, the global climate talks. One of my friends suggested that we embroider trees on repurposed fabric to create a collective forest mural. We shared the idea, with clear instructions, on our social media, thinking perhaps we would get 20 to 30 trees.  
When we finally put together the installation 3 months later in a community center in the south of England, en route to Glasgow, we had 157 embroidered trees from over 10 countries  and they looked amazing! At COP26 in Glasgow, I couldn't find any place big enough for all of them so I put some of them up at the Centre for Contemporary Art and the rest I carried around with me and put them up in different parts of the city: on railings, in the city square, along the Clyde River beside the conference buildings, wherever I could find a visible place.
The message of the embroidered forest is that, like a forest, we too are part of a community and like trees, are connected to each other. All the trees in a forest share resources and nutrients and send messages about threats and coordinated strategies of protection. Like in a forest, we want decisions to be made for the greater good.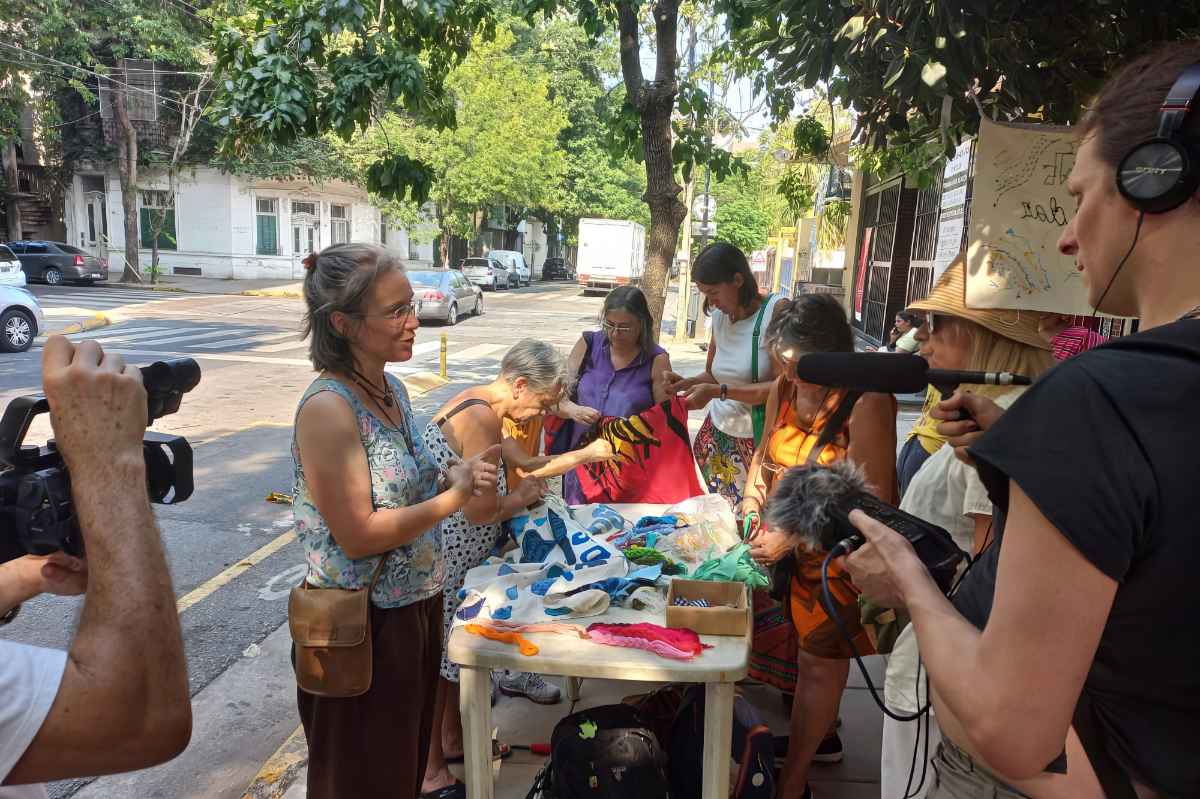 Although COP26 was disappointing, we realized that the achievement of 140 women who had never met apart from online to create a piece of protest art and send it across the world to Glasgow, was an example of the power of collective action. So we decided to turn the embroidered Forest of Hope into a traveling installation so that as many people as possible could hear more stories of hope. 
In 2022 it went to more than twenty locations in eight cities in Mexico and in 2023 we took it to Argentina where it is currently traveling from town to town. At the end of this year it will be going to Chile. Wherever it is set up we coordinate with local groups. We invite speakers to talk about compost, urban gardens, water consumption, water stress, how to reduce consumption and waste and all those presentations give people more ideas. 
We started embroidering questions into the forest like, "How do you imagine the future?" and "Who made my clothes?" (a hashtag designed by Fashion Revolution) and "Where will the children play?" to get people to reflect on difficult questions about how modern life can and must change. And the forest is growing because at each installation more people are inspired to create another tree, take another action. 
Stitching seems like it is not enough to combat climate change but there is a quote I stitched into the forest, which I heard at a presentation during COP26 by Paulien Gaukema from Milieu Defensie (an activist from the Dutch group that successfully sued Shell): "We often feel what we do is not enough, but we show up to do that thing that's not enough. And if we all keep doing that, showing up to do the thing that's not enough, we will change the world".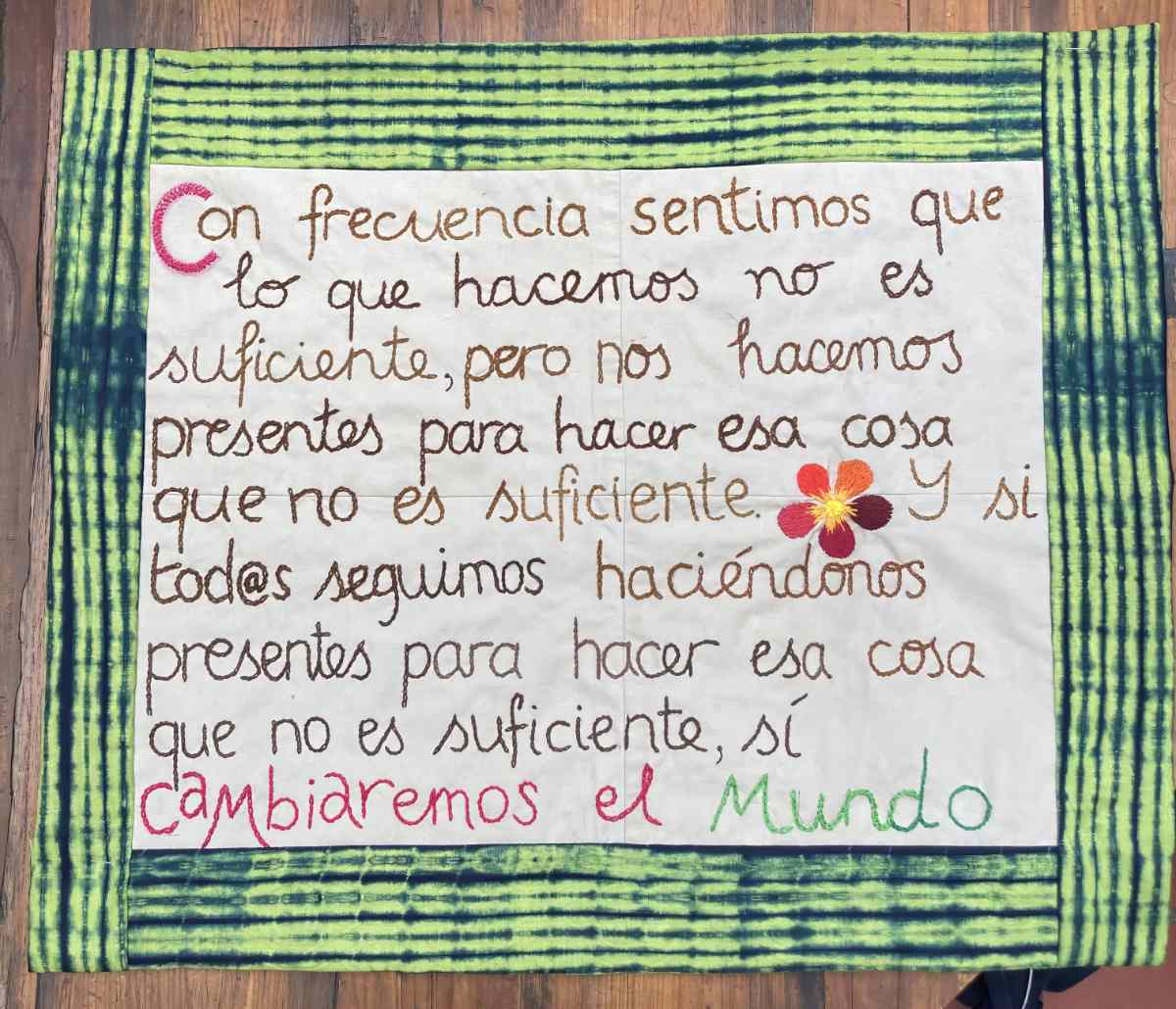 For many many people climate change is too big and too awful to face, so they do nothing, they avoid information and they do not engage with their own citizen power to provoke social change. Our stitching may seem small, but we are connecting people, connecting local campaigns across Latin America from more community parks in Buenos Aires to neighbors reforesting volcanoes in Mexico City.  
Before 2020, I was much more anxious. Being part of the collective, connecting regularly with all these wonderful women, determined to do something has been life changing.  I've realized that as a collective our strength lies in demonstrating what collective action can achieve: if more than 100 women who had never met in person could bring together a 25 meter square mural with 157 embroideries on recycled fabric from across Latin America (and a few Europeans) for a campaign in Scotland, what couldn't we achieve if our local neighborhoods got organized? 
I believe that if it's just that one person, the action is not going to make a difference in terms of (for example) CO2 emissions. But it is still valuable and meaningful because when that one person keeps going and somebody else sees, and understands the reasons, and they see this action can be an everyday part of life, they start to realize that they have agency too, they can be a part of the change. Of course we REALLY need the big companies to make huge changes and I don't minimize that AT ALL, but ultimately it's up to all of us to take responsibility for our actions and make small changes to protect our planet and create the societies that will not tolerate the destruction that is going on. There aren't quite enough of us yet, but the movement is growing every single day!