Leanne Brummell, Australia:

"I'm just a mum who thinks these gas projects shouldn't be happening"
Leanne is co-founder of Australian Parents for Climate Action and a key coordinator within Parents for Future Global. She is also a member of the Knitting Nannas, a collective using knitting and artivism to campaign for the preservation of Australia's land, air, and water. Leanne has deep knowledge of using creative campaigning and legal processes to stop gas projects in her region and works on fossil fuel campaigning globally. Here, Leanne shares the many ways she's using her 2022-23 Climate Parent Fellowship to fight for a better world for those who come after us.
I knew nothing about the climate when I began fighting gas projects here in Australia a decade ago. Gas was sold to us as a good idea. It's jobs, it's money for farmers, it won't hurt anything. I was concerned for families I knew living near the gas fields who were getting sick, getting bleeding noses. They couldn't drink their rainwater, and the government would do nothing.
I began to read about how bad gas was for health and underground water and learned that essentially nobody was overseeing gas companies, it's all self regulated. There were no adequate rules about what they're doing. When I learned that the public gets input on gas projects, I took it upon myself that this is what I'm going to do. I wasn't an environmental activist. I was just a mum saying, Hey, I don't think you should be doing this. I think I've shown that it's worthwhile, that one person can make a difference.
When I found out that gas also had climate impacts, I joined a zoom call with other mums from around Australia. Five of us started Australian Parents for Climate Action and it's led to over 17,000 parents from every state in Australia, taking action, talking to politicians, making an impact.
Where I live, in St George, a small rural town in Queensland, eastern Australia, there's lots of native wildlife– koalas, kangaroos, blue tongue lizards, emus, kookaburras that laugh, and echidnas, which are like Australian porcupines. There's more types of native birds than you'd ever imagine. The Balonne River flows through town and it's calming and lovely to walk along, and important to the First Nations peoples here. The Indigenous women are protectors of the river, which is why I'm trying to stop the fracking near it. I've invited community members to draw the river and what's important about it and sent that artwork to politicians.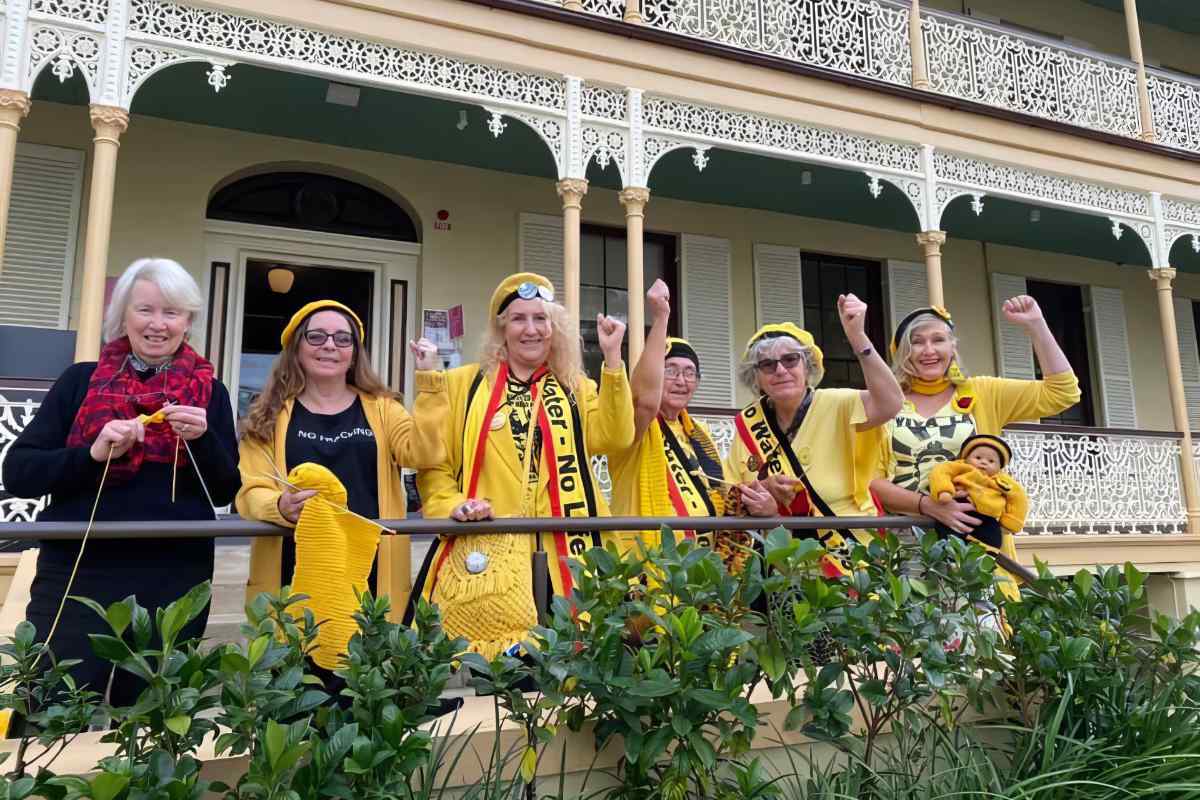 I also started a Knitting Nanas group in my town. Knitting Nanas are all over Australia keeping an eye on fossil fuel companies, gathering at politicians' offices, work sites, rallies to keep the pressure on and taking their knitting to keep themselves busy.
I spent two years every weekend talking to people about the health impacts of extracting gas and what was happening to people living in the gas fields. I'd have my laptop with a video of a doctor who did health studies in the gas fields and maps of where the fields are, where they're going, educating people about what the gas company is up to, and what people can do. I'd say, Have you seen this research? Look at this. We need to stop it. They've drilled through the Great Artesian Basin, the water we use. I made a frame with "Save Our River" on it. People would be quite happy to get inside for a photo!
We're a rural farming area that not long ago had ten years of drought. That cost jobs and people had to move away. Then came the rains, heavier now with climate, and massive flooding. Our town was evacuated once. Most roads out here are dirt roads going to farms and until they dry out, you can't get into the paddock to pick your crops because you get bogged. We cannot produce food in such situations.
And it's getting hotter. We've had weeks at a time with high 30's temperatures and days that reach 45, 46 degrees, even 50 degrees (122 degrees F) in the shade. I think of kids playing sports in those temperatures. Are they going to have to be nocturnal and play sports at night because it's too hot in the day? I worry about what a climate impacted future would mean for the young people in my town, for future generations, for my 19-year-old. I wonder if I'm ever going to have grandkids, because my daughter says, "What's the point of having kids, Mum, when the world's going to be crap?" I tell her, "It's not going to, because your mum is going to win this. She's trying to, anyway."
During my Parent Climate Fellowship this year, I'm working to help grow Australian Parents for Climate Action, and help people and groups to get more towns, cities, and governments signed onto the Fossil Fuel Non-Proliferation Treaty. I'll also get people thinking about life after gas. Gas companies say, "We're going to be here for decades." Not if I can help it! Even if they're here for decades, then they're gone. What then? What do the people want? I'll talk to different communities about that, and about what their message wants to be. I've got parachutes and fabric paint and I'll invite them to paint those to use as banners for their community events. Around here it was always, "But there's nothing we can do about the gas company." I tell people, "I'm knitting this scarf. One day, I'll be able to tie it across the bridge, and they won't be able to drive their rig through. As a mum, you do what is necessary."
I love to get up in the morning and think, What am I going to do to annoy a gas company today? I really do. But mostly what gets me out of bed doing this every day is all the others doing it, too, so many people committed to making the difference, mums all over the world. I have hope because people everywhere are realizing Hey, climate change is real. Some governments are making better policies. Some insurance companies and banks are refusing to fund fossil fuels. Younger people are reaching voting age.
Parent voices are also being heard at international events like Stockholm50+ and the COPs. We're determined that the world will be safe for our kids. I really have hope. We have an obligation to make the future the best we can. Grandparents love their grandkids, too, and all of us, working from a place of love, is surely more powerful than powerful men, mainly, working from a place of greed. Many of those making the decisions about climate impacts have children, too. We can touch their hearts in a way others can't.