Miriam Wanjiku:

How my daughter inspired me to take climate action
Miriam Wanjiku lives in Kenya and works actively with Parents for Future Kenya and Kisumu Environmental Champions. She was inspired to generate climate change awareness by her daughter Rahmina Paullete (17), a young activist who is active in Fridays For Future and who founded Kisumu Environmental Champions in March 2020  to mobilize young people in her local community and beyond. Last year, Miriam accompanied her daughter to the COP27 global climate talks in Egypt.  They both also attended the Stockholm +50 environmental meeting in Sweden.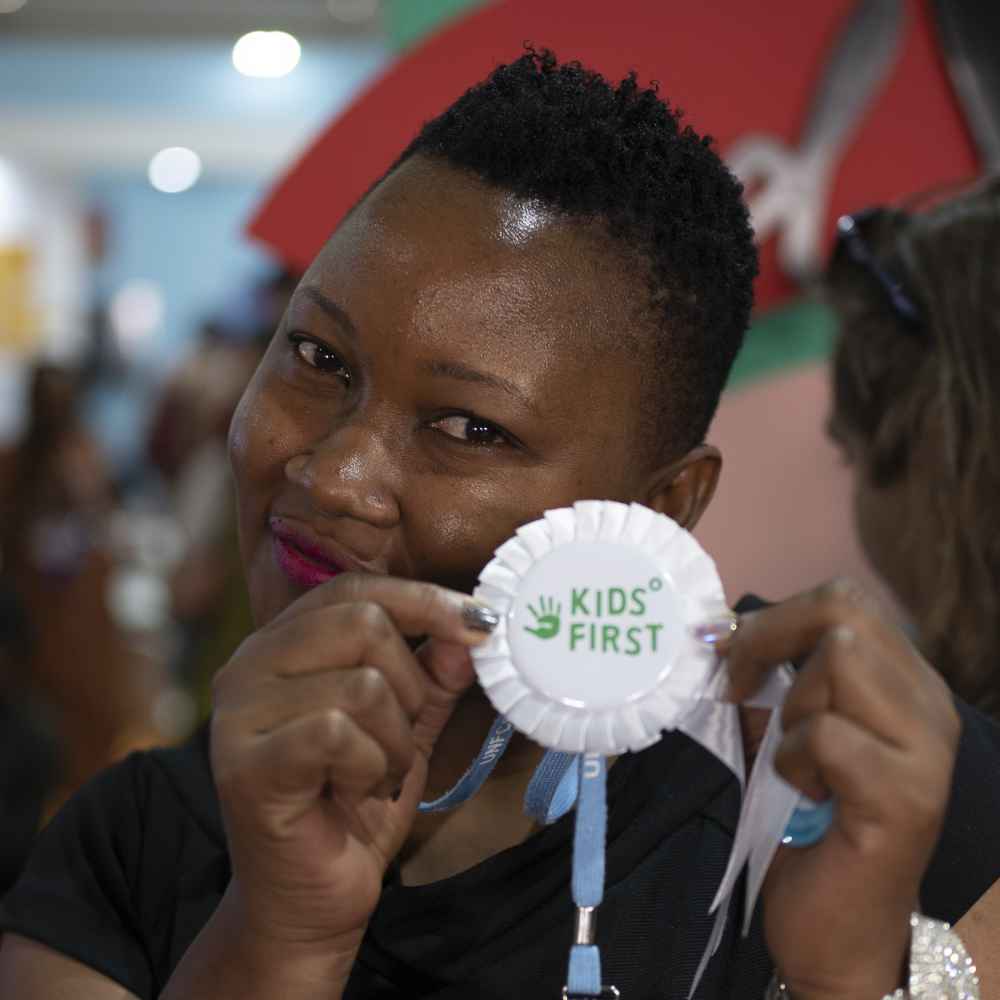 When my daughter was in kindergarten, the teacher suggested I take her to modeling lessons. It was on the way back and forth to the class that I realized my daughter's interest lay wholly in nature. She would always stop by the path to look at plants and insects and marvel at them. So, I started taking her to tree planting activities and clean ups with other organizations and that's when I realized that I myself was beginning to fall in love with nature. It wasn't something I'd thought of before, but then memories of spending my younger years swimming and bathing in Lake Victoria started coming up – and it struck me how polluted the lake is now. I wouldn't even step in it now! That's how bad it has become.
I became the manager for my daughter Rahmina's organization Kisuma Environmental Champions. At the meetings, I would listen to the children talking about their concerns and felt really inspired. It wasn't just me but there were other parents as well, who would wait during the meetings to take their kids back – we were all on the sidelines and just watching something important unfolding before us. So I got the parents together and instead of being bystanders we joined Parents For Future Kenya.
One of the key campaigns of my daughter's organization is the cleaning up and restoration of Lake Victoria, the #LetLakeVictoriaBreatheAgain campaign. Kisumu Environmental Champions organizes clean-ups every Saturday and spreads awareness on why we do this. We're up against powerful polluting industries who dump industrial waste into the lake. Companies that use plastic packaging don't take responsibility for recycling their own product. They don't spread awareness on recycling to their consumers. You should see the number of plastic bottles that end up in the lake. And then there are the sewage companies that open the pipes when they are over capacity and let untreated sewage into the lake. The impact that this has is manifold. Fish deaths in the lake are a common occurrence. Earlier, impalas used to roam freely around the lake but now you hardly ever see them. The water pollution here and in surrounding areas also causes illness and diarrhea.
We also have problems from air pollution. There are four steel companies around where we live. The factories emit smoke every night. You can see it from their chimneys. Every night, you just have to step outside to see the smoke from the chimneys. Just breathing that air irritates our throats. In fact, our Ministry of Health conducted a survey on children, and we found out that most children under five have asthma. And that is something which we never grew up with. We met the CEO of the company and he said that they're planting trees to offset the pollution. I said that it is not enough. But you see, it's a challenge because these are powerful people from big companies, so all we can do is talk to them nicely, make a request and leave.
Within the local communities, we focus on making positive changes. Through Kisuma Environmental Champions, we encourage and train people to set up kitchen gardens and grow enough food for themselves. They grow onions, tomatoes, and root vegetables – this helps them save money. If they don't have land, they grow vegetables in sacks. The community sees and appreciates our efforts. For example, Dunga Beach is so clean now – the community enforces strict rules about disposing trash. We communicate mainly through WhatsApp groups and have a volunteer base of one thousand people now – we are growing!
At meetings and conferences like COP, I sometimes don't feel appreciated and heard. I'm a parent from the grassroots but my experience is not considered as important as 'expert knowledge'. I know what soil is. I know what farming is. I know why my soil and water quality is deteriorating. For example, in Kenya, nobody will call you to those big conferences. They call academics who have studied the environment. Yes, they are important just as my lived experience is important. I want to ask them: Have you ever planted a tree? Have you ever seen a tree grow? How many trees do you have? Have you eaten something from your forest, from your farm? What do you consume? Do you buy vegetables from the supermarket, or do you grow them yourself? Sometimes this attitude discourages me. But when it came to COP27, I got a space to speak, and I was happy. So, you see, it's a matter of you going for it, you have to fight for space. And then when you get that space, what are you doing with it? What are you going to say?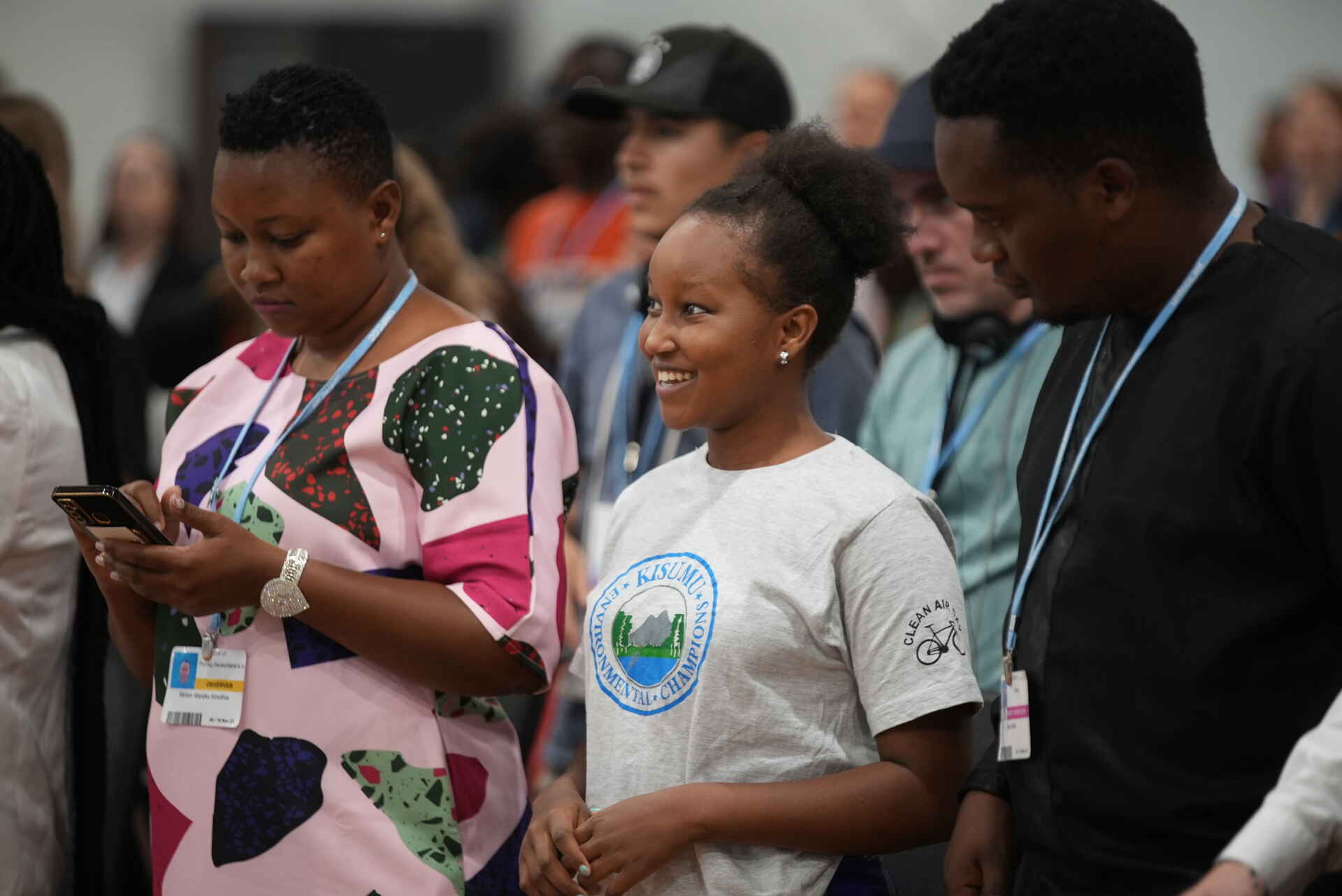 At COP27, my daughter and I took part in Our Kids' Climate and Parents For Future Global's #KidsFirst. We urged leaders to consider the children and future generations in their decisions.  I supported  Rahmina when she spoke alongside Mary Robinson and Vanessa Nakate, at a COP27 side event organized with children's rights organizations including UNICEF, Save the Children, and Our Kids' Climate.  Rahima also is part of the Food@COP campaign, run by a coalition of youth groups, networks, and civil society organizations, which aims to ensure COP serves plant-based, climate friendly food. We served individuals free fruits in the Food Pavilion as part of this campaign! It is crucial that my daughter has the support of her family at these big international conferences.  
Earlier in the year, my daughter and I attended the Stockholm +50 conference.  Rahima led Friday For Future strikes and gave interviews to Spotify and others. Alongside Greta, we helped launch the song Save The World by Jarvis Smith, which is raising money for Fridays For Future MAPA. I was also able to meet our former president, our excellency Uhuru Kenyatta in a one-on-one meeting with other Kenyans, where he promised to create a committee of women and youths working on climate change. It is called the Kenya Youth Stockholm +50 taskforce.  
I want to ensure that our children grow up with nature, understanding their soil and taking pride in agriculture instead of moving away from it. Maybe then, they will grow up healthier, using clean energy and we will really see a better future for them. I'm happy to be the mother of a climate activist. Through her I found my own purpose. We've changed a small part of our world, and we are continuing to change the world.