Herbert Murungi, Uganda:

My daughter will grow up in a world that is already experiencing the fall outs of climate change.
31 year old Herbert Murungi, from Kampala Uganda, is a father, environment scientist, and social entrepreneur. He is a co-founder of Rural Environmental Sustainability Initiative-RESI, a social enterprise promoting clean cooking, environment, and climate education in rural communities of Uganda. The birth of his daughter this year has made him more conscious about the world his daughter will grow up in and has increased his sense of urgency about tackling climate change.
My daughter will grow up in a world that is already experiencing the fall outs of climate change. I remember when I was growing up on a farm during my primary school years, I started noticing changes in crop yield and how drought would affect pasture or life on the farm. 2005 stands out in my memory as an unusually hot year. I was able to see how the climate was changing and understood it was caused by emissions. From then on, I have never gone back from trying to study and understand it better.
Like me, others were experiencing the changes too but many didn't understand it, didn't have a name for it. I went on to study environmental science technology and management in University and I was determined to take this knowledge in simpler terms to the people around me. I had learnt how carbon works and I thought about the best way to spread awareness to others. For people to engage with climate change they must understand it first. I decided to write stories about global warming and climate change. I chose young people as my target audience and I have already written three books that address the changes in our world. The launch of my first book 'James the Steward' was supported by Our Kids' Climate (OKC). The book is about how a child's life is affected by a natural disaster. We also received a small grant for the second book 'Keeper of the Forest'. You rarely get support of this kind and I'm grateful for it.
I'm currently working on another book – Powerful Queens of Gando. It's about the beauty of bees and their importance in our food chain. It also addresses the dangers that bees face from pesticides like Chlorpyrifos. We're fighting the use of chlorpyrifos in Uganda as it affects pollinators. So I'd like the world and especially children to understand how important bees are to our ecology. I keep getting asked why I write for children and it's because the world belongs to them – we have a large young population in Uganda and I would like them to understand the world around them.
My young readers also inspire me to write more. A young girl from Canada wrote to me. She said that she wants to be like James Steward ( a character in my book). She said "I've not been conscious about how I use water but now I'm going to think more about it."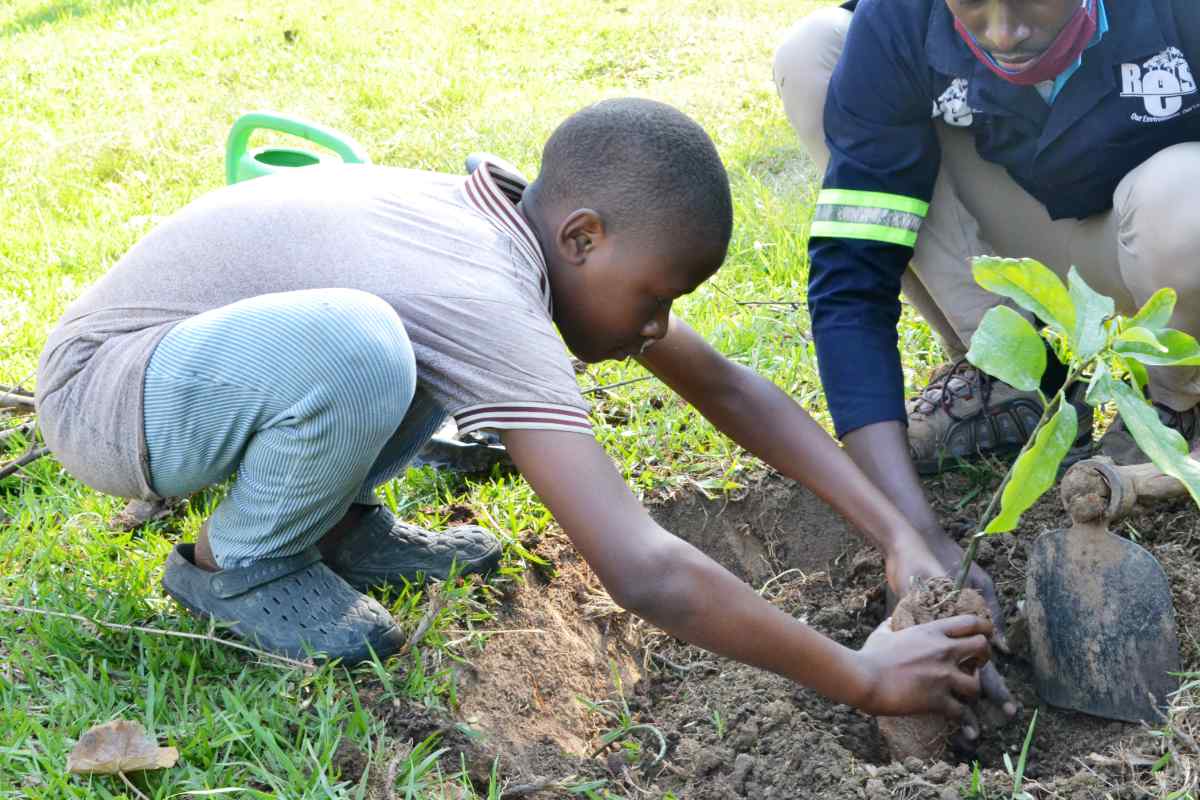 A child from Uganda who had read the book said that he normally slashes trees as he takes his cattle out to pasture. "Now that I know how important trees are and that they are home to so many other creatures, I am going to stop doing this." The knowledge we take for granted must be spread – these practices don't come naturally in our world today.
I also co-founded an organization called RESI (Rural Environmental Sustainability Initiative). We are currently focusing on clean cooking fuels. Many families in Uganda use charcoal to cook leading to air pollution. The kitchen is usually full of smoke – women are in the kitchen for 7 hours due to cooking – so the amount of pollution they are exposed to is a lot! You only have to look at the ceiling of her kitchen to understand what her lungs may look like.
Women also walk miles to collect firewood to use as cooking fuel. They own cattle and have access to cattle dung but do not know about biogas. Only 26% of the population has access to electricity so biogas is a good workable alternative.
RESI's other focus area is climate change education. We talk to local communities about climate change and how deforestation is a contributing factor. We want people to understand that the health of the environment affects their own health too.
Every country has its own challenges. Many women in Uganda have to fight pollution and the effects of climate change in their kitchens.
In this regard OKC is one of the most important networks I have joined. Talking to people from different countries helps in the understanding of the very different challenges we face while working towards the same goal.
I do worry a lot about the future. I was raised in a humble family and grew up like any other country boy on a farm. All our income came from farming. But with the changing climate, we're facing low yields. Food prices have shot up. Both farmers and their customers are suffering. How will we feed our families healthy meals? We may feel safe in one part of the world but that is a transitory state. It is getting hotter every year. The other day I was out with my mother and she said she has never faced this kind of heat – she said that it feels as if the sun is falling out of the sky. We need to think about how we will shield our kids from this heat.
As a father, I'm even more concerned that I lead by example. My family members and I make sure that there are no pollutants in our home. We must reuse and recycle. No action is small. Save water, Switch off that light. I try to ensure that within my home we do as much as we can. I want my daughter to grow up in a safe and healthy world.