Kelo Uchendu:

"Our planet is in a critical state" – taking climate action in Nigeria and beyond.
Kelo Uchendu is an inspiring Nigerian youth advocate for sustainable development and climate justice. He is the founder of the youth-led Gray2Green Movement in Nigeria and a campaign coordinator for Mock COP internationally. He is experienced in high level policy spaces and focuses on strengthening youth engagement and intergenerational influence in climate governance. During COP27, he co-moderated the High-Level Youth Dialogue with UN Secretary-General Antonio Guterres, and helped create the Children and Youth Pavilion which brought children's and youth voices into the heart of the UN climate talks.  
I first realized that I needed to take action on climate change when I became aware of its devastating impacts. The severity of the crisis was alarming, but I also became aware of the low levels of climate literacy among young people in Nigeria. It was clear that we needed more conversations about climate change.
That's when I decided to found the Gray2Green Movement. Our goal is to raise awareness of the climate crisis and mobilize the collective power of young people and others to mitigate climate change and create a just, clean energy future for all in resilient, thriving communities. Since starting the Gray2Green Movement in 2018, we have seen a growing interest in climate action among young people in Nigeria. The movement grew from just six founding members to over 1200 young people across different tertiary institutions in Nigeria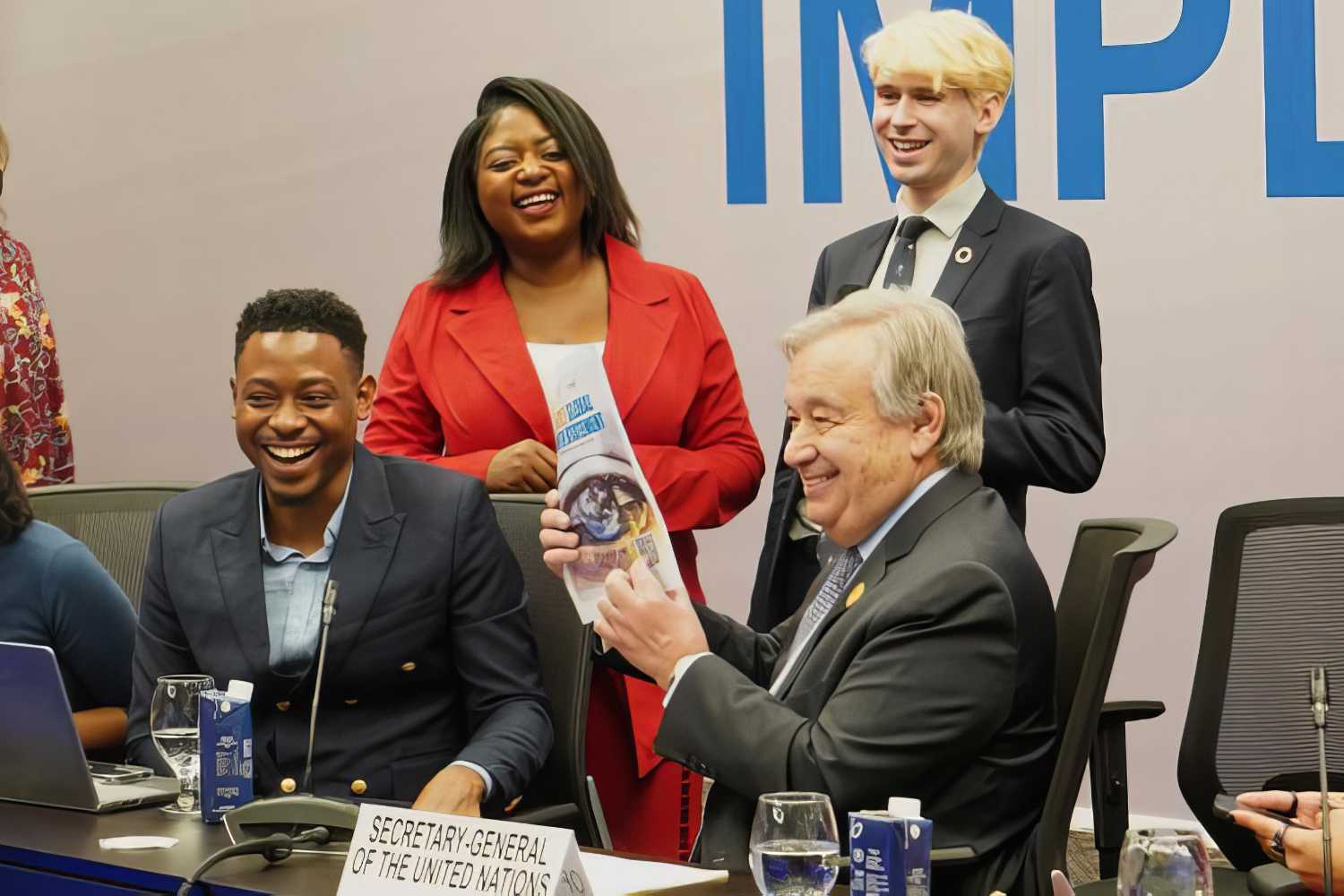 I wanted to create a space where young people could come together to learn about climate, share their ideas, and work together to make a difference. One of the key ways I have been taking action is by creating spaces and platforms for young people to engage with policymakers and other stakeholders on climate issues both at global and local level.
This has involved providing training and support to young people to help them understand the complexities of climate policy and to develop the skills and knowledge they need to effectively engage with decision-makers. Gray2Green Movement developed a flagship training programme on "Grassroots Mobilization for System Change " which equips young people with the skills and knowledge needed to influence positive change through grassroots organizing.
Internationally, in a bid to fill the void created by the postponement of COP26 in 2020, I helped found Mock COP, an international youth-led collective that organized an online version of COP, engaging over 330 young people from over 140 countries as delegates. CNN named Mock COP one of the 'Ten Environmental Heroes to Inspire You in 2021'. We provided hundreds of global youth environmentalists with elevated knowledge, tools, skills, networks, and climate action opportunities and supported them in running campaigns and lobbying their respective national governments.
At COP27 last year, I had the opportunity to lead very impactful and high-level dialogues, including co-moderating the High-Level Youth Dialogue with H.E Antonio Guterres, the UN Secretary-General. The session with Guterres was the highlight of my participation at COP27, not just because it was a high-level event, but because Guterres has proven to be one of our most formidable allies. We heard him speak from the heart while addressing many questions from young people and also highlighting the many challenges to child and youth participation in COP decision-making processes. Seeing the level of solidarity from Guterres gives young people, like me, much needed motivation and hope.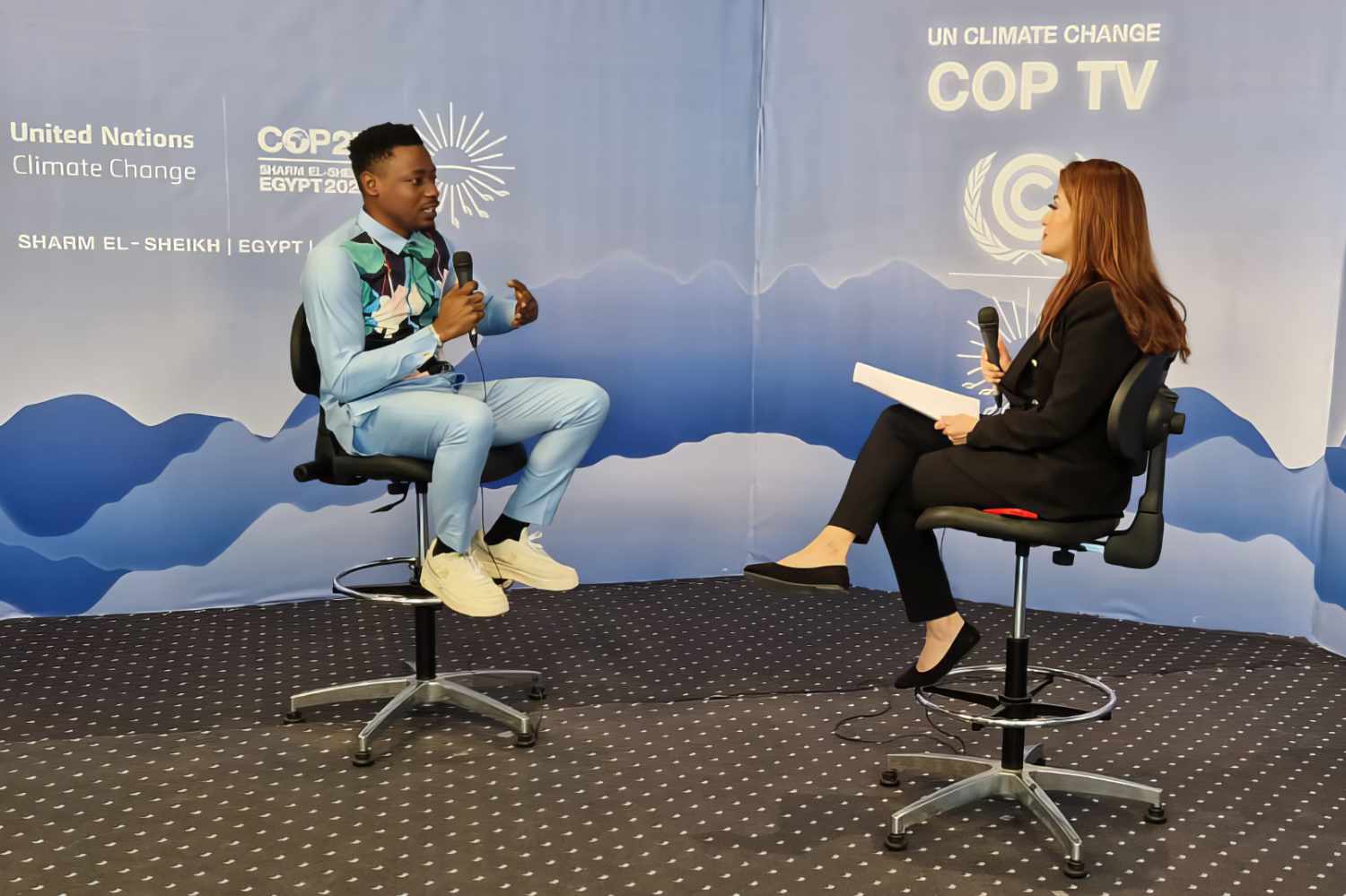 Also, I had the privilege of working with other young people to bring the first ever Children and Youth Pavilion to the COP. The pavilion served as a safe space for young people to come together to network, collaborate, cross-pollinate each other's work, or even just to relax from the ever busy COP. We also had a meeting room and a media room for bilaterals and press interviews. This made it a lot easier to schedule bilateral meetings with parties and negotiation groups, and gave young people the opportunity to share their stories with the press.
The pavilion received widespread support from parties, the UNFCCC Secretariat, COP Presidency and even the UAE government as they pledged to support and fund another Children and Youth Pavilion at COP28.
COP28 is a very important COP because it will mark the first ever global stocktake (GST). As we take stock of the progress made so far, I believe there is dire need to close the gap between politically-agreed targets and science-based targets. The current pledges are nowhere close to meeting the ambition set out in the Paris agreement. But the appointment of Sultan Al Jaber as COP28 president designate who also doubles as the CEO of one of the nation's biggest oil companies represents a huge conflict of interest, one that can undermine the trust and integrity of the process.
Our planet is in a critical state. The breaking ice caps in the Arctic to me signify a breaking of Mother Earth's spirit, a weakening of her very foundations. In the Sahel region, we are experiencing drought and rapidly encroaching desertification.  There is still a long way to go to secure a habitable future for all. Climate change is often viewed as a distant, abstract problem that does not affect people's daily lives. This lack of understanding can lead to complacency and a failure to take the necessary steps to prevent further harm.  I fear that governments may continue to drag their feet, and that the progress we have made so far will be undone.
I also fear that the greed of corporations and politicians will triumph over the resistance of young people and others fighting for a safe and livable planet for all. This fear is not unfounded, given that many corporations and politicians prioritize their own interests and profits over the well-being of the planet and future generations.
Despite these fears, I remain hopeful and committed to doing my part. I am motivated by my  encounters with people suffering the consequences of climate change and who would do anything to have a better life for themselves and their children. The determination and creative ingenuity of young people also gives me hope.
I try to build bridges between generations and create opportunities for young people to be heard.  I believe that working with parents, children, and across generations is a powerful approach to addressing the climate because it creates a sense of shared responsibility and purpose. We can build on the wisdom and experience of older generations, while also harnessing the energy and creativity of younger generations. This creates a golden thread that binds together values and experiences across generations, and creates a shared vision for the future.